1
on: January 20, 2020, 01:31:42 AM
Started by Bumblebugbee3 - Last post by Urza
Cute!

P.S. Haven't visited this forum in ages. Hi.
3
on: November 12, 2019, 01:11:56 PM
Started by Kegluneq - Last post by Kegluneq
I don't know how I let three years slip by without this thought occurring to me. Its fun to drop in here every now and again and see that some of the OG forcum crew still post now and again, I say we oughta get the gang back together
https://discord.gg/ddew6jb
4
on: August 04, 2019, 09:41:27 PM
Started by Bumblebugbee3 - Last post by Bumblebugbee3
Thanks! I might do more from Spelunky Perler sometime. I think my next project is Sonic and friends.
5
on: July 31, 2019, 06:30:44 AM
Started by Bumblebugbee3 - Last post by halibabica
Nice, they all look great! Yeah, Perler and pixels were practically made for each other. They match the sprites really well.

You should do a ManTrap too.
6
on: July 28, 2019, 04:07:16 PM
Started by Bumblebugbee3 - Last post by Bumblebugbee3
Hi everyone, last time I was on here I was making plushies but my new calling is Perler. I love Perler because its so easy to work with. Here are eight characters I made based on the sprites for Spelunky Classic. I choose to stick with the more humanoid characters. I always tweak the designs a little to my liking but I feel they are still quite recognizable. Hope you all enjoy!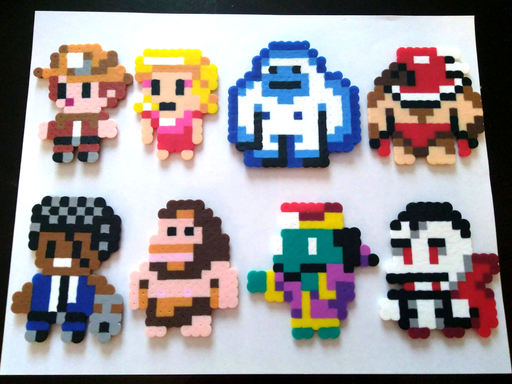 7
on: April 18, 2019, 08:51:10 PM
Started by Wonkyth - Last post by stewartisme
Doing much better than I was
8
on: March 05, 2019, 01:32:47 PM
Started by Wonkyth - Last post by hyperme
Activity? In this day and age? Madness!
Anyhow I managed to get an actual software development job, allowing me to pay bills and be a responsible adult. Somehow I avoided the layoffs and restructing, became AGILE and worked on several projects, all of which are terrible in their own unique ways!
I also stopped getting into internet fights, which was a good idea. Partially because most of the places I used to hang out on collapsing into the internat void, partially because I realised I had better things to do with my time, and partially because I moved on from the part of my life that I was using internet fights as an outlet for. Yeah!
Tragically, I lost my Spelunky mod files in hard drive failure a few years ago. So if you're still waiting for the next Psi-lunky update, I'm afraid that sooner became later, and later became never. I'd like to say I'm still making games, but that's mostly a lie.
I guess this is the part where I suggest people check out my Youtube Channel and/or Tumblr Blog, except neither of those are that engaging. Unless you like weird silent videos of DROD features you can use, or ramblings about random stuff. So I won't suggest that. (If you want a recommendation, check out
Hamumu Games
instead - when their site fell over, they made their games free, and some of them are neat.)
9
on: February 23, 2019, 07:45:54 AM
Started by Wonkyth - Last post by Pteriforever
WHERE ARE THEY NOW, MOSSMOUTH EDITION:
-- Bloxxin and I are both furries.
-- SuperX46 is a mega weeb. He goes by the name TrigexSS. He does programming mostly. Mellowed out a great deal.
-- KarjamP slowly decayed into pure batshit insanity over many years. This is what he's doing now:
https://www.deviantart.com/karjamp
-- Shane and his orbiters dropped off the face of the Earth two years ago after their continuously escalating drama sagas could go no further. He might be dead, nobody knows.
-- Audioworm's been drawing underwater lesbian hentai for a while now.
Life is funny.
10
on: January 24, 2019, 04:30:41 PM
Started by Wonkyth - Last post by Kegluneq
Recently moved to New York, lots of life changes this last year actually.